Microsoft Office is probably the most-used computer software product in the world, with the possible exception of the Web browser. It has three main components: Word, Excel and PowerPoint.
The fourth pillar of Microsoft Office is outlook, which is the leading email, calendar, and contacts program used to keep track of these essential business functions.  Because of the significant impact this suite of programs has on both business and personal computing, it's a big deal when Microsoft makes significant changes to its Office lineup. 
The latest version is called Microsoft Office 2007 and constitutes a radical revision: it is the most dramatic overhaul this software has seen in more than a decade.
The User Interface
The user interface (or the way you do things in these familiar programs) has been entirely thrown out and replaced with something new.  All of the menus are gone in Word, Excel and PowerPoint. 
That's right, every one.  None of the familiar toolbars survived the transition, either.  Instead there is the Ribbon: a wide, tabbed band of icons along the top of the screen.  Going back to the classic interface is not an available option.  In Outlook, the Ribbon has not yet replaced the menus and toolbars in the program's main screens. The Ribbon appears when composing email, setting up new contacts, or scheduling an appointment.
Office File Format
Microsoft has also changed the standard format for Office files.  On both Windows and Macintosh machines, older versions of Office won't be able to read these new file types without special conversion software.  The new version is backwards compatible: it can read files created in the older versions.
While much less publicized, these changes in Office are far bolder and more important than the mostly cosmetic user interface changes in the hyped up new version of Microsoft's Windows operating system, called Vista. These new features succeed years of gradual additions to the lengthy list of available Office commands and functions. This top-heavy command list replaced by a new logically constructed layout of these options.  They make it much simpler to find any one of the 1500 commands within Office that had been buried in previous editions. They also add new and elegant tools for improving the appearances of documents.
Benefits and Disadvantages
Microsoft deserves credit for being bold and creative in designing Office 2007; it's definitely better and fresher.  There is a big downside to this gutsy redesign: the new version of the Office suite requires a steep learning curve that many people may rather avoid.  Some will inevitably curse the program because familiar functions and commands are no longer in the original places, even though Microsoft offers plenty of help and guidance through support and tutorials.
The changes in Microsoft Office 2007 are most beneficial for users concerned with the layout and design of documents.  Commands related to formatting, layout, graphics, and design seem better arranged and easier to find.
By contrast, basic composition and editing are aided either very little or not at all by the new design. 
Those who mostly compose plain word documents, simple presentations and basic spreadsheets may find the new Office 2007 not worth the effort required to master it. People with the new version will still be able to read older documents, and free conversion software is available for reading the new file format.
Who Will This Help? Who Will It Hinder?
Power users are another group that might be better off skipping Office 2007. Many of these advanced users already know commands by heart and have heavily customized their menus and toolbars to their personal preferences. 
The new Office is much less customizable.  In fact, the Ribbon cannot be customized at all. 
The Quick Access Toolbar is the only option for grouping favorite commands. This "minitoolbar" floats at the upper-left corner of the screen. People who mostly control Office via keyboard commands will find that most of the basic keyboard commands are the same.
Other Fantastic Features
There are other nice additions.  There is a new tool in Word, Outlook and PowerPoint called contextual spell checking. It identifies incorrectly used words, even if the spellings are in the dictionary.  For example: type "their" instead of "they're", and Office catches the mistake.  It really and truly works.  In addition, Office has a function that translates a word or sentence into entirely different languages.  There are better looking graphics for charts and tables in PowerPoint and Excel.
All of these programs have Live Preview, a feature that has long been offered by Word Perfect. It displays a preview of a formatting change before committing to it.  It allows users to see what a new font or style would look like by hovering the cursor over that particular choice.  Outlook is the least changed of the programs, but finally gains a fast search capability and the ability to preview attachments without opening them, something it had lacked when compared to other email programs.
The Ribbon is the biggest change. It's essentially a super toolbar, divided into seven logical tabs that attempt to group similar commands. Each tab brings up a new version of the Ribbon. This can be a little confusing at first, because common file handling functions like Open, Save and Print aren't on the Ribbon.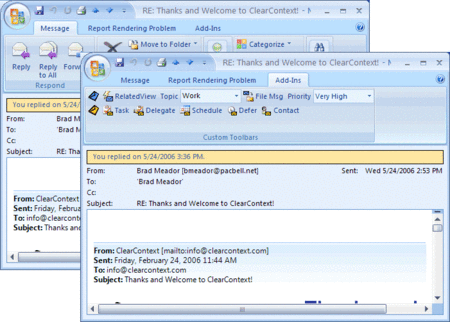 They are accessed by clicking on a big round Icon in the upper left corner of the screen, called the Office Button. This is the rough equivalent of the old File menu. Clicking the Office Button also displays a much longer and larger list of recently opened files than the old File menu did, and files can be permanently pinned to the list.
There's no doubt that some functions are quicker and easier to use and access in the new interface. Narrowing the margins in a word document takes as few as three clicks, compared to 14 clicks possible steps in older versions of Microsoft Office. Applying styles to a word document is also easier. The ribbon has a variety of style options available in the Home tab, illustrated with big square icons that show how that style will appear.
Biggest Bummers:
But some less-common tasks are harder without the old menus and tool bars. One such task: adding a new word to the auto-correct system. Like a lot of things in Office over the years, the new file formats have been instituted mainly to aid big corporations. For consumers and small businesses, the main benefit of the new formats is to shrink file sizes, but that benefit is far more likely to be outweighed by hassles and incompatibilities.
Luckily, Office 2007 can be set up to ignore new formats and save files in the old format so they can be read without conversion software. Some new formatting features may not be usable in the old formats, however. Free conversion software is available at Office.Microsoft.com. Click on the "Downloads" tab and select Microsoft Office File Formats Compatibility Pack. Mac office users will have to wait until later in 2007 for Microsoft to release converters that allow the mac version of office to read the new file formats. A third-party conversion program for word files only has already been released. It is called docXconverter, and can be downloaded at www.panergy-software.com for 20 bucks.
In another move that will likely annoy many consumers, Microsoft has stripped Outlook from the lower priced home version, which can be used on up to three computers. But this edition of office has been made less valuable for many folks. It still includes word, excel, and PowerPoint but now instead of outlook it has OneNote, a very nice program for creating and organizing notes and other research materials. Many home users would prefer outlook. To get Outlook in Office 2007 users will either have to buy Office Standard Edition or a stand-alone version of Outlook.
For those who'd like to get more out of Office, especially in the area of how documents look, Office 2007 is a big step forward. Generally speaking, Office is worth the learning curve required.
Related Links: Microsoft Office 2007, Microsoft Software, Microsoft Products