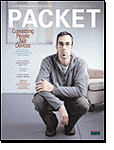 We are excited to offer free subscriptions to Packet magazine, the award-winning publication exclusively for technical users of Cisco solutions.
Each quarter, Packet offers engaging coverage of the latest industry tips, trends and resources as well as current updates on Cisco products and solutions for skilled technology professionals worldwide.
Subscribe to the digital edition and receive the content, look, and feel of the print edition delivered directly to your PC every quarter — weeks before the print edition is mailed.